Perros Guirec, 27 giugno 2021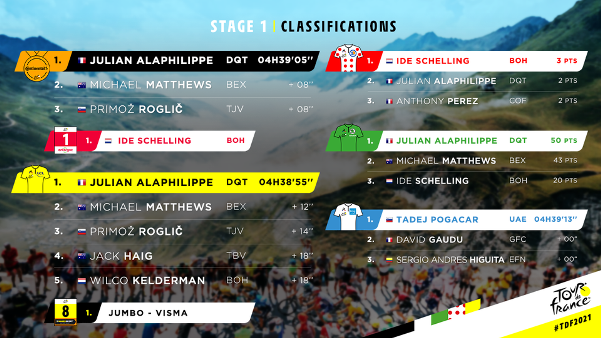 Mur de Bretagne, arrivo 2° tappa TDF
Con Julian Alaphilippe in maglia gialla si parte con la seconda tappa del TDF 2021 che si concluderà dopo km 183,5 sull'erta del Mur de Bretagne.
Oggi presenziano alla gara il Principe Alberto 2° di Monaco e il Senatore della Cote D'Armor, Alain Cadec.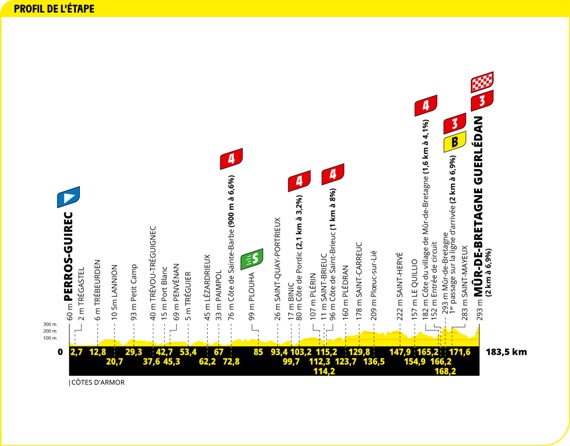 Questa l'altimetria della seconda tappa che prevede anche ben 6 GPM, quattro di 4° categoria e due di 3° categoria tra i quali il Mur de Bretagne.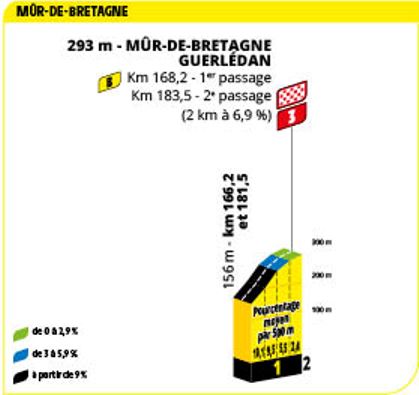 .
Bei ricordi per il ciclismo Italiano che vinse da queste parti, a Vitrè nel 1995 con Mario Cipollini e c'era Laurent Jalabert in maglia gialla.
Oggi si parte con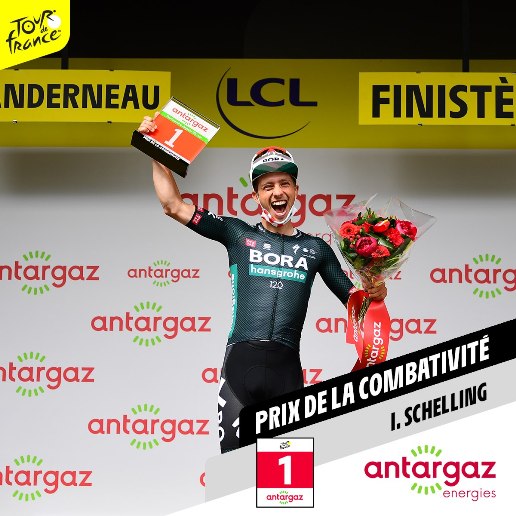 Distance: 183,5 km
Climbs: 6
Points for the polka dot jersey: 8
Points for the green jersey: 50
Bonus time: 18 seconds
Fictive start: 1.10pm
Real start: 1.20pm
Estimated finish: 5.42pm
Village opening: 10.15am
Are present today:
H.S.H. Prince Albert II of Monaco
Alain Cadec, senator of the Côtes d'Armor
16°
18°
Perros-Guirec
Stage town for the 2nd time, capital of the canton of Côtes-d'Armor and 7 260 inhabitants (Perrosiens, Perrosiennes)
Perros-Guirec has already hosted the Tour de France in 1995, for the start of a stage won in a sprint in Vitré by Mario Cippolini and at the end of which Laurent Jalabert had taken the Yellow Jersey thanks to the bonuses gained on the way, one year to the day after his fall in Armentières. For Cippolini, who had already won a stage in 1993, it was his second success in the Tour. Ten more were to follow.
The city has been on the route of most Breton stage races, such as the Ruban granitier breton, the Tour d'Armorique and the Tour de Bretagne, and hosted the start of a stage of the Tour de l'Avenir in 1993.
Mûr-de-Bretagne Guerlédan
Stage town for the 4th time, town in the department of Côtes-d'Armor and 2 560 inhabitants (Mûrois or St-Guennains).
In ten years, the Côte de Mûr or Côte de Menez-Hiez has definitively become a classic of the Tour de France and has confirmed its nickname of "Breton Alpe d'Huez". Since 2011, and the prophetic victory of Cadel Evans announcing his final victory in that edition, the Tour has twice come back to Mûr to crown punchers like Alexis Vuillermoz (2015) and Dan Martin (2018). This year, the riders will twice climb the hill, tailor-made for specialists of this kind of effort, among whom we cannot help thinking about Julian Alaphilippe. In 2018, the Frenchman finished 4th behind Dan Martin, Pierre Latour and Alejandro Valverde, all of them perfectly suited for this kind of finishes, as well as Primoz Roglic, 10th in the same place two seasons ago.
The sky is mostly mixed, alternating between very cloudy and clear periods. Some clouds may still give occasional showers. The risk is higher in the afternoon.
The risk of thunderstorms can be ruled out with the main activity still being over the eastern regions. Temperatures during the stage are 16 to 18 degrees. Wind at first from the North-East to the East between 10 and 20 km/h at the beginning of the stage, shifting rather to a broad South after passing the town of Saint-Brieuc, while becoming more and more sensitive, around 20 km/h in average wind, with peaks towards 40 km/h likely.
Twin city with:
Dragonera (Espagne)
Twin city with:
San Pietro di Feletto (Italie)
Grammont (Belgique)
France will hold the presidency of the European Union from 1 January to 30 June 2022. Europe is all about the ties that bind our towns and cities with other communities and the people who call them home. Every day, you will find the names of the European twin towns and sister cities of the places that host the Tour de France.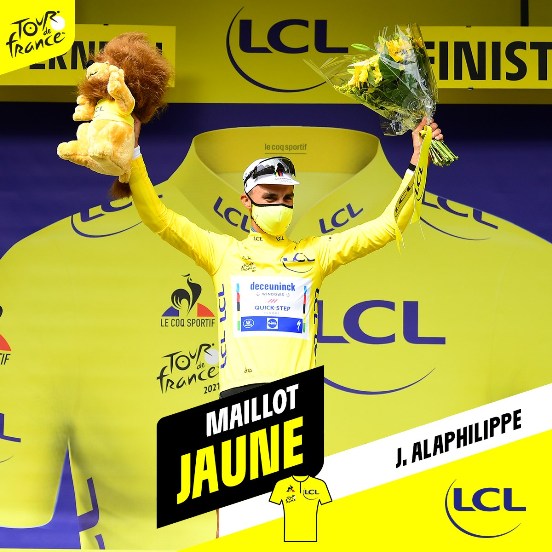 In maglia gialla e anche da leader della classifica a punti (Maglia verde-indossata da Matthews) il campione del mondo Julian Alaphilippe.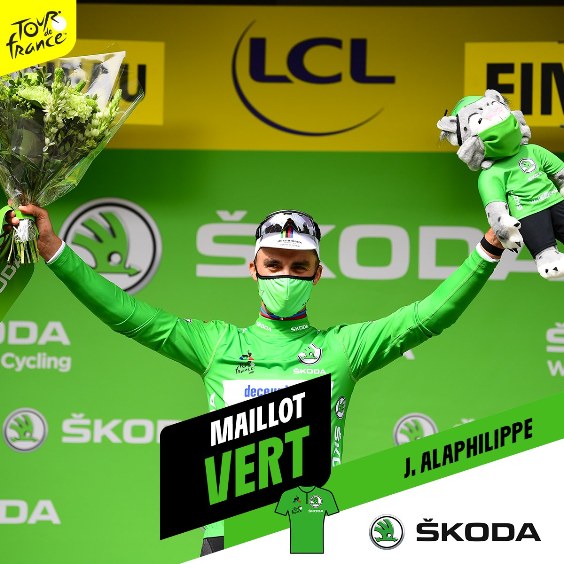 .
In maglia bianca il vincitore della scorsa edizione Pogacar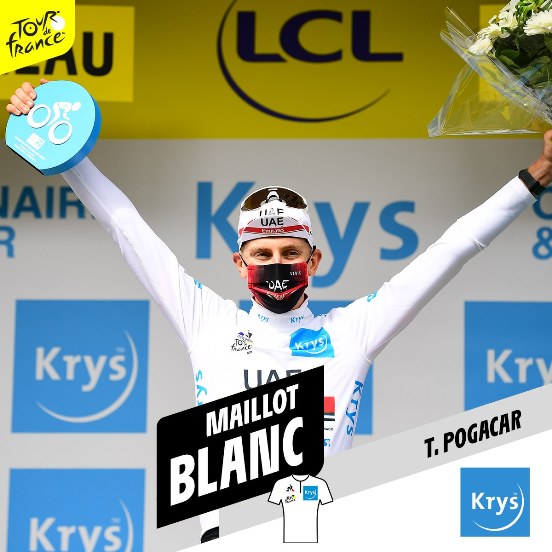 .
Infine da leader del classifica del GPM e del Premio della Combattività Ide Shelling della Bora Hansgrohe
#TDF2021
181 riders completed the stage
Watch the last kilometer of stage 1!
Julian Alaphilippe
(Deceuninck-Quick-Step) 4h39'05''
Julian Alaphilippe
(Deceuninck-Quick-Step) 50 points
Worn by Michael Matthews (Team BikeExchange)
Ide Schelling
(Bora-Hansgrohe)
3 points
Tadej Pogacar
(UAE Team Emirates) 4h39'13''
Jumbo-Visma
13h57'44''
Ide Schelling
(Bora-Hansgrohe)
Please find all the official broadcasters
of the race.
Free of rights pictures, maps and profiles
( ©: A.S.O.)
All you need to know about the Tour is on www.letour.fr/en/