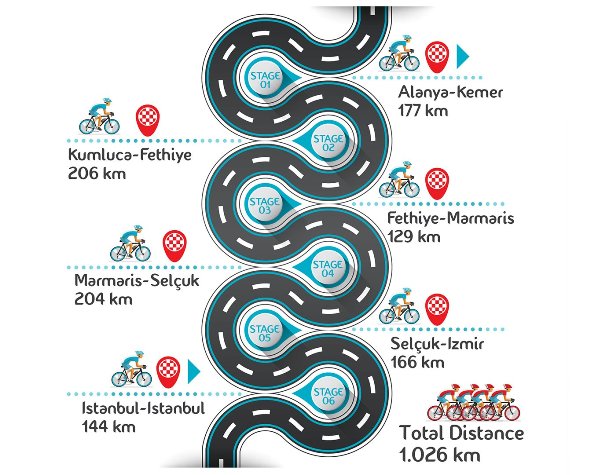 PRESIDENTIAL TOUR OF TURKEY: GÜNAYDIN FROM STAGE 3Fethiye, 12 October 2017 – Günaydın from Fethiye, the start town on day 3 of the 53rd Presidential Tour of Turkey, the Spor Toto Fethiye-Marmaris Stage (128.6 km).Roll out is at 13.30 local time. The start of racing (km 0) follows a 5km neutralised section.
(All photography credit Brian Hodes / VeloImages)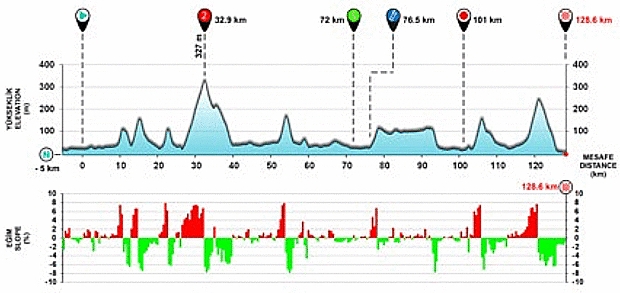 Today's stage includes the following:
At km 32.9:
a category 2 climb worth 5, 3, 2 and 1 points in the Turkish Airlines Red Jersey competition to the first 4 riders across
At km 72:
an intermediate sprint worth 5, 3 and 1 points towards the Salcano Green Jersey to the first 3 riders across, and also 3, 2, and 1 bonus seconds towards the Spor Toto Turquoise jersey
At km 101:
a "Beauties of Turkey" sprint worth 5, 3, and 1 point towards the Vestel White Jersey
At km 128.6:
A very fast downhill finish that has been won in the past by Daryl Impey (2009), Giovanni VIsconti (2010), Manuel Belletti (2011), Mark Renshaw (2012), André Greipel (2013 & 15), Mark Cavendish (2015), Sacha Modo
Jerseys – Leaders Delle Varie Classifiche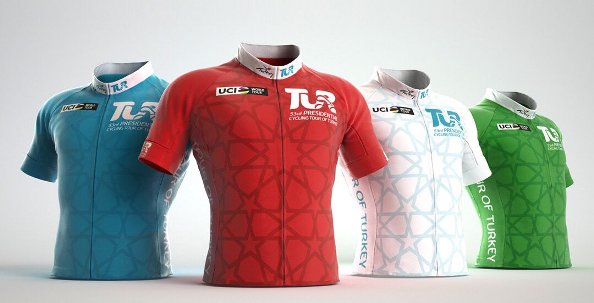 Spor Toto Turquoise jersey: overall race leader: 22 Sam Bennett (BORA-Hansgrohe)
Turkish Airlines Red Jersey: mountain classification leader: 113 Mirco Maestri (Bardiani–CSF)
Vestel White Jersey: Beauties of Turkey classification leader: 4 Onur Balkan (Turkish national team)
Salcano Green Jersey: points classification leader: 22 Sam Bennett (BORA-Hansgrohe)
Stage 3 Profiles
Stage 3 Finish
Today's Cultural and historical feast
Fethiye
A popular resort set on a wide bay strewn with islands. The ancient name of the city is Telmessos: the fortress overlooking the city was built by the Knights of Rhodes. Fethiye is known for elaborate rock tombs carved into the cliffs by the Lycians. The tomb of Amnytas, dating to the 4th century BC, is in the Doric architectural style.
The Beach and the Sovalye Island are real the destinations for those who like to enjoy the most beautiful sea. Belcegiz Bay forms the dreamlike Belcegiz – Ölüdeniz ('Blue Lagoon', 36° 32′ 57.6″ N, 29° 6′ 54″ E) with 3 kms of natural beach and crystal blue waters. At Koturumsu, waterfalls flow beneath thousands of butterflies which flutter through the pine forest that flanks the beach. Paragliding from Baba mountain became one of the most popular sports and it gives magnificent views for people flying over this great beach lagoon.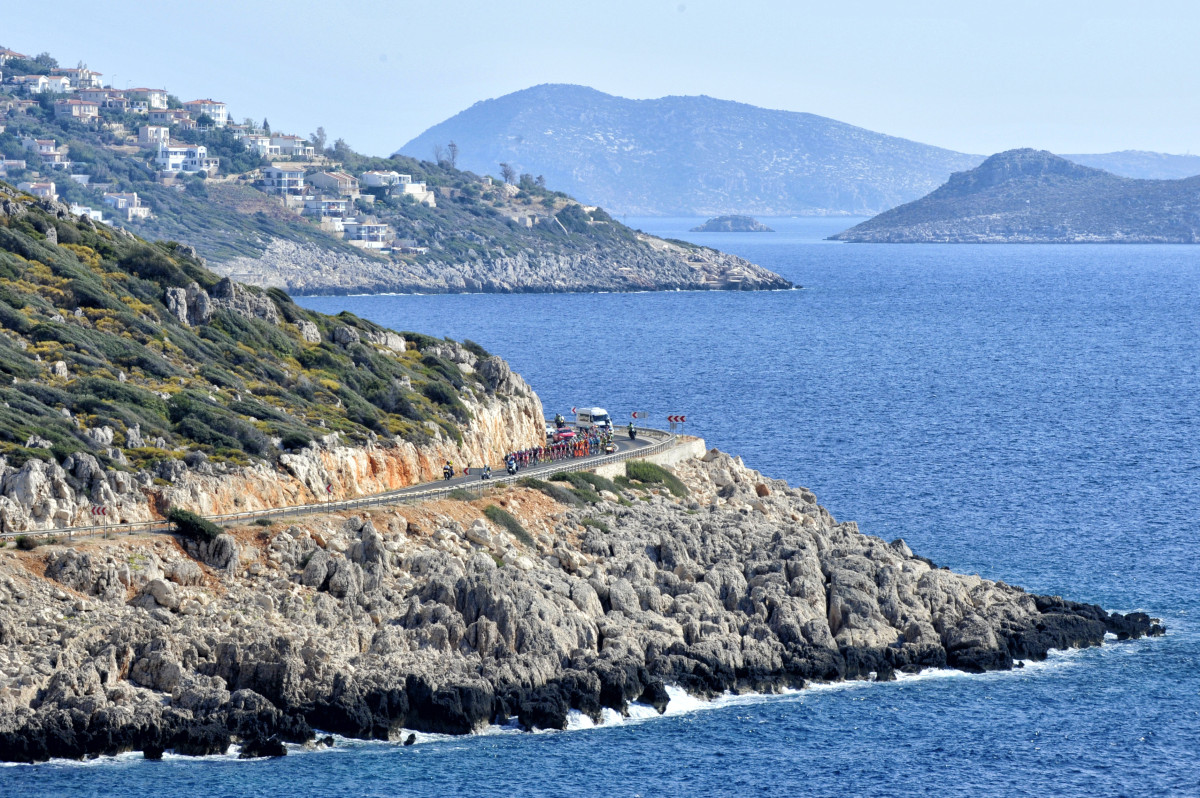 Around Fethiye, there are important ancient cities of the Lycians. To the southeast of Fethiye lies Xanthos at Kinik village, an important capital of Lycians. Its setting is naturally adorned while Letoon, by Kumluova village and close to Xanthos, is also interesting. Letoon was a cult center during the Lycian period and remains can be seen of temples dedicated to Leto, Artemis and Apollo. Patara by Ovagelmis, Pinara by Minare, Tlos by Doger, Cadianda by Yesil Üzümlü, Sidyma by Dodurga, Karmilassos by Kaya, Pydnai by Kavadere, Araxa by Ören, Lydoe by Kapidag, Lissa and Arsada by Kayadibi, and Daedela by Inlice are other significant sites to visit in the environs of Fethiye. There are also many camping and picnicking facilities around Fethiye.
Km 0 – 128.6 km to go – Gemiler Island (, 36° 33′ 12.41″ N, 29° 4′ 9.67″ E): the location of the original tomb of Saint Nicholas. Archaeologists believe he was interred in the rock-hewn church after his death in 326. His relics remained there until the 650s, when the island was abandoned as it was threatened by an Arab fleet. They were then moved to Myra, 25 miles (40 km) to the east. Because of the many wars and attacks in the region, some Christians were concerned that access to the tomb might become difficult. The Italian cities of Venice and Bari vied to get the Nicholas relics. In the spring of 1087, sailors from Bari in Apulia seized part of the remains of the saint from his burial church in Myra, over the objections of the Greek Orthodox monks. Returning to Bari, they brought the remains with them and cared for them. The remains arrived on 9 May 1087 and remain at Bari.
Km 20.3 – 108.3 km to go – Göcek (36° 45′ 25″ N, 28° 56′ 40″ E):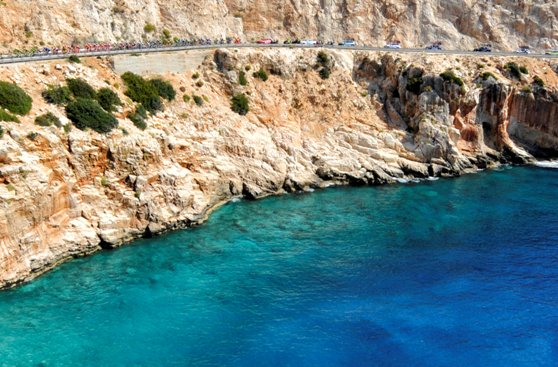 According to legend, it was near Göcek that Icarus fell into the sea after flying too close to the sun on wings made of feathers and wax (a scene depicted in the famous painting by Breugel, 'the Fall of Icarus', and sung of by Joni Mitchell in her song Amelia: "Like Icarus ascending on beautiful, foolish arms…'). Göcek was used as a harbour for ships loading chrome ore collected from the mines under nearby mountains during the Ottoman period.In its large, secluded bay Göcek hosts six large marinas.
km 47 – 80.6 km to go – Dalyan (, 36° 48′ 33.24″ N, 28° 37′ 39.57″ E): achieved international fame in 1987 when developers wanted to build a luxury hotel on the nearby İztuzu Beach, a breeding ground for the endangered loggerhead sea turtles. The incident created major international storm when David Bellamy championed the cause of conservationists such as June Haimoff, Peter Günther, Nergis Yazgan, Lily Venizelos and Keith Corbett. The development project was temporarily stopped after Prince Philip called for a moratorium and in 1988 the beach and its hinterland were declared a protected area, viz. Köyceğiz-Dalyan Special Environmental Protection Area.
km 65 – 63.6 km to go – Lake Köyceğiz (36° 54′ 32.28″ N, 28° 39′ 42.80″ E): one of Turkey's largest coastal lakes. fed by the Namnam and Yuvarlakçay rivers and a number of mountain brooks. The water of brooks, melting water and fresh water wells, mixes with warm sulfurous water that is released from a fault and mildly brackish, oxygenated water that flows upriver with the rising tide. The depth of the lake varies from 20 to 60 metres. The lake is abundant with fish.
km 97 – 31.6 km to go – Gökova Beach (37° 2′ 31.03″ N, 28° 19′ 44.48″ E|):
km 110 – 11.6 km to go – Sedir Island (, 36° 59′ 31.98″ N, 28° 12′ 15.14″ E): also known as Cleopatra Island, is a small island in the Gulf of Gökova. It is famous for its beach made from seashells. It is said that this organic sand was brought by ships from the Red Sea especially for Cleopatra. Each grain of sand is a perfect sphere, for this reason the beach is heavily protected by the government to prevent any sand being removed from the beach. According to legend, Anthony and Cleopatra swam here and the sands were brought by ships from North Africa.
128.6 km (Finish) – Marmaris Castle (km 130, 36° 51′ 2.32″ N, 28° 16′ 27.99″ E): Herodotus, born in c. 484 BC at Halicarnassus (modern-day Bodrum, where André Greipel won stages in 2010 and 2013), described by Cicero as "The Father of History," writes that the first city walls in Marmaris were constructed in 3,000 B.C.
Marmaris
It is not known when Marmaris was founded, but Physkos, as the settlement was previously known, was part of the Carian Empire in the 6th century B.C. when overrun by the Lydians. Another Lydian invasion in 334 B.C. led to the division of the Roman Empire by Alexander the Great.
According to Herodotus, the Carians, after coming from Crete took over the town of Physkos with its large natural harbour, and used it as a military base for their campaigns against the Phoenicians in Rhodes and other Aegean islands. The Carian civilization entered a dark period after 300 B.C., coming under the rule of the Egyptians, Asstrians, Ionians and Dorians successively. The Dorians turned the Carian province into 9 colony cities, also including Halicarnassos and Knidos, which became an active trading centre for Anatolia and led to an increase in handicrafts and maritime trade. In 138 B.C. Attalos the 3rd, King of Bergama, whose predecessors had ruled Caria for 90 years, ceded Physkos to Rome and the city was ruled from Rhodes by Roman generals. The city became part of the Ottoman Empire in 1425. The castle was built in 1521 AD for use in a planned assault on Rhodes. The Ottoman Sultan at the time, Kanuni Sultan Suleyman, changed the name of the town to Mimaras, which then became Marmaris.
A local rumour has it that the reason for the change of name Mimaras was that Sultan Suleyman, on returning from his expedition to Rhodes, disliked the castle and exclaimed "mimar as!", which means "hang the architect!" Unfortunately there is no evidence to support this amusing story.