| | |
| --- | --- |
| Press Release – Dubai Tour | 4 February 2016 |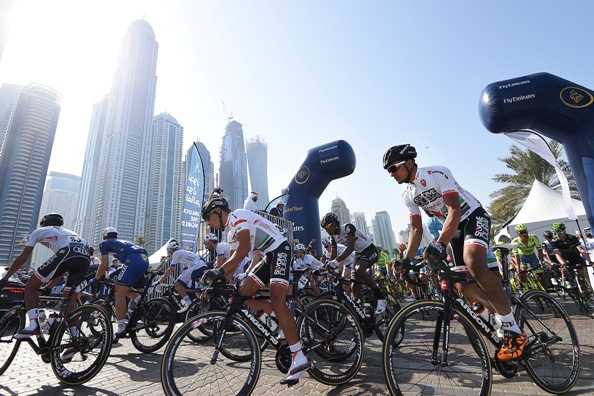 Partita la 2° tappa del Dubai Tour
مرحباً (Marhaban!) from Stage 2 of the Dubai TourDubai, 4 February 2016 – مرحباً (Marhaban!) from Stage 2, Nakheel Stage, of the third edition of the Dubai Tour (3-6 February 2016), organised by the Dubai Sports Council in partnership with RCS Sports and Events. Starting from the Dubai International Marine Club, the race will move towards the outskirts of the city to return to the southern part of Dubai, and end up in style in Palm Jumeirah, in front of the Atlantis hotel after 183km.Here, a bunch sprint is expected. During the stage 40 Red Jersey Points, 15 UAE Flag Jersey Points and 19 seconds in time bonuses are up for grabs for an individual rider in the best possible scenario.

The ceremonial roll out started at 10.40am. After crossing the 4,900m neutralised zone, the peloton of 124 riders passed km 0 at 10.52.

WEATHER Dubai (10.30): Clear skies, 22°C. Wind: moderate-strong – 17kph, SE. Dubai (15.00): Clear skies, 21°C. Wind: moderate-strong – 17kph, SE.

DOWNLOAD

STAGE AND TIMINGS Stage 2 – Nakheel Stage (183km) From Dubai city to Dubai city (Palm Jumeirah Atlantis) Finish: Approx. 3.15pm Race Headquarters: DIMC – Dubai International Marine Club – Mina Seyahi, Al Sofouh Road, Al Seyahi Street, Dubai, U.A.E.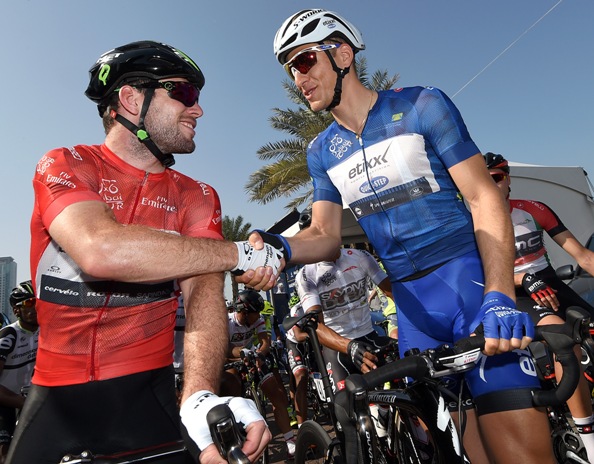 JERSEYS
The Blue Jersey, sponsored by Commercial Bank of Dubai (General individual classification by time) – Marcel Kittel (ETIXX – QUICK STEP)
The Red Jersey, sponsored by Emirates (General individual classification by points) – Marcel Kittel (ETIXX – QUICK STEP). Jersey worn today by Mark Cavendish (DIMENSION DATA), second in the points classification
The White Jersey, sponsored by RTA – Roads and Transport Authority (Best Young Rider born after 1 January 1991) – Soufiane Haddi (SKYDIVE DUBAI PRO CYCLING TEAM – AL AHLI CLUB)
The UAE Flag Jersey, sponsored by DHA – Dubai Health Authority (Intermediate Sprint Jersey Classification) – Soufiane Haddi (SKYDIVE DUBAI PRO CYCLING TEAM – AL AHLI CLUB). Jersey worn today by Loic Vliegen (BMC RACING TEAM), second in the intermediate sprints classification
ROUTE A stage of two distinct parts. The first part is just outside the metropolis, partially in the desert, the second part within Dubai Marina to end in Palm Jumeirah, in front of the Atlantis "door". The first part will pass next to the Camel Track, the Al Qudra bike path, the Hamdan Bin Mohammed Bin Rashid Sports Complex pool and through the desert. The second part returns into the city touching Dubailand, the Jumeirah Golf Estates and Dubai Sports City. It then heads to the finale on the Palm through an underwater tunnel before the last kilometres, with the halfway point on the artificial island. From here there will be a little over 3km before the final sprint. Last kilometres On the Palm, many clearly marked rumble strips run across the carriageway along the descent and the climb, and there is a U-turn 3,200m before the finish line. The final 3km are virtually straight (although on a constantly slightly-bending road), with some roundabouts along the way. The home stretch is 800m long (still bending slightly), on a 7m-wide asphalted roadway.
POINTS OF INTEREST km 0 – DUBAI INTERNATIONAL MARINE CLUB – MINA SEYAHI – DIMC Dubai International Marine Club was established in 1988 in Mina Seyahi by His Highness Sheikh Ahmed Bin Saeed Al Maktoum to safeguard traditional watersports and promote Dubai both nationally and internationally. It is located in a prime area in the city, which has developed around the club over the years, and it now sits in the heart of new Dubai with its numerous hotels and restaurants. With its 300-berth marina, helipad, sailing school, race department, offices and venue facilities DIMC hosts more than 50 events each year in various classes including a full programme of traditional events. km 0 – SKYDIVE DUBAI Skydive Dubai is one of the world's premier skydiving locations, in which people can witness a complete sky panorama scenery of the luxurious man-made island Palm Jumeirah and Dubai Marina. km 0 – JUMEIRAH BEACH RESIDENCE – JBR Jumeirah Beach Residence, by Dubai Properties, is a waterfront residential area consisting of many towers that can accommodate about 15,000 residents in its apartments and hotels. JBR is best known for The Walk which is a 1.7km promenade with restaurants, cafes and boutiques. Next to JBR, a new Ferris wheel, is currently under construction, aptly named the "Dubai Eye" and inspired by the London Eye on the River Thames. km 5 – JEBEL ALI Jebel Ali is a port town which is located 35km southwest of Dubai. Jebel Ali has become the most frequented port by the US Navy ships outside the USA. It has been a free zone area since 1985 due to the harbour's depth and facilities and the port's size. km 25 – DUBAI WORLD CENTRAL AL MAKTOUM INTERNATIONAL AIRPORT The Dubai World Central Al Maktoum International Airport is an international airport located in Jebel Ali. It was opened on the 27th of June, 2010 with one runway and handling only cargo flights. It is the main part of the Dubai World Central, a planned residential, commercial and logistics complex. The airport will have an annual cargo capacity of 12 million ton and a passenger capacity of up to 160 million people per year – where would make it the largest airport in the world in both size and passenger volume. km 25 – EXPO 2020  In November 2013, the UAE won the exclusive right to host the Universal Exposition in Dubai in 2020, by the Bureau International des Expositions. For the very first time, the World Expo will be held in the Middle East. With themes entitled "Connecting Minds and Creating the Future", the Expo will echo the powerful spirit of partnership and cooperation that has made the UAE so successful in developing new paths of evolution and innovation. The event will also be a platform for hundreds of nations to showcase their thinking in terms of architecture, science and technology. km 77 – AL MARMOUM CAMEL RACETRACK Deep in the desert sands you can still find a modern day version of an old Dubai tradition at the Al Marmoum Racetrack. From the grandstand, you can be part of this heart-pumping, crowd-cheering, camel-racing sport that has been integral to Emirate life for centuries. For several years human jockeys have increasingly been substituted by radio-controlled robot jockeys. The track hosts races weekly between September and April with two sessions: one in the morning (6.30am-8.30am) and one in the afternoon (3pm). km 99 – AL QUDRA CYCLE TRACK The Al Qudra Cycle Track features longer distance loops of 18 and 50km (150km in total). By 2030, the Road Traffic Authority intends to complete 900km of dedicated cycle paths and bike lanes in Dubai. km 105 – HAMDAN BIN MOHAMMED BIN RASHID SPORTS COMPLEX A modern, integrated stadium for water sports and track and field. Interior and exterior architecture draws on traditional Arab culture. 24 hectares, seating for 15,000, the complex can host 13 different sports. Two Olympic pools, each with moveable floors to allow conversion to a 25-metre pool and a diving pool.  km 120 – DUBAI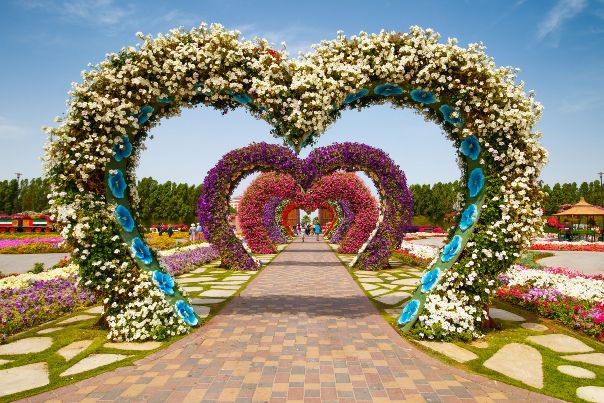 MIRACLE GARDEN Located in Dubailand near the Arabian Ranches and opened on 2013 Valentine's Day, Dubai Miracle Garden contains over 45 million flowers over a 72,000m2 site. It's the world's biggest natural flower garden and is open to the public from 10am to 10pm on weekdays and 10am to midnight on weekends and public holidays. km 140 – JUMEIRAH GOLF ESTATES Set across 1,119 hectares of lush green landscape, Jumeirah Golf Estates, is an unrivalled residential and leisure destination, offering attractive investment opportunities and world-class amenities. Combining a neighbourhood environment with world-class facilities, Jumeirah Golf Estates currently comprises of 16 unique communities, which overlook two of the world's finest golf courses, 'Earth' and 'Fire'. Each individually designed villa, apartment and townhouse is more than a residence; it is an ideal home in its own right. km 160 – JUMEIRAH ISLAND  Jumeirah Islands is a housing development by Nakheel Properties, consisting of small islands, each containing households of 16 villas, all located in a very large artificial lake. The complex includes 50 islands featuring restaurants, supermarkets, a Club House, a gym, and a leisure facility. km 170 – JUMEIRAH LAKE TOWERS – JLT  The Jumeirah Lake Towers is a complex of towers and four artificial lakes about 3m (9.8ft) deep; lake Almas West, Lake Almas East, Lake Elucio, and Lake Allure. The area hosts a residential population of around 60 000 and a working population of another 120,000. km 188 –
PALM JUMEIRAH / NAKHEEL PROPERTIES  Palm Jumeirah is an artificial archipelago; it is one of the three planned islands called the Palm Islands (Palm Jumeirah, Palm Jebel Ali and Palm Deira) which extends into the Arabian Gulf. Palm Jumeirah forms the shape of a palm tree: in particular, it consists of a trunk, a crown with 17 fronds and a surrounding crescent island that forms an 11km (6.8 mi) long breakwater. The crown is connected to the mainland by a 300m (980ft) bridge and the crescent is connected to the top of the palm by a subsea tunnel. Located in the Palm, Atlantis is a five-star resort that includes a water park, an aquarium and the Dolphin Bay where everyone has the opportunity to swim with dolphins.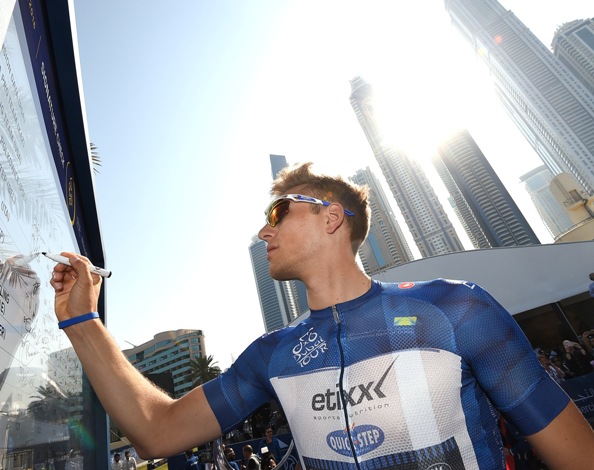 TV COVERAGE Dubai Tour 2016 is broadcasted worldwide in 155 countries, with 43 additional countries compared with the 2015 edition. 15 TV networks are involved in the coverage, eight of them live. The Host Broadcaster is Dubai Sports Channel, which offers its audience the full live coverage of all stages live on both Dubai Sports Channel 1 (in English) and Dubai Sports Channel 2 (in Arabic), with race pre-race and post-race shows broadcast across the United Arab Emirates and in 22 other Middle Eastern and North African nations. Eurosport broadcasts two hours per stage on its pan-European and Asia Pacific networks, covering a huge panel of countries. Italian cycling fans are able to watch the race live on RAI too. Live coverage of the event is also provided in Japan thanks to J Sports, in Australia on SBS's screens, in the U.S.A. thanks to NBC and in Mexico and other five countries on Televisa Deportes Network. To complete the framework of live broadcasts, in South Africa and 51 countries of Sub-Saharan Africa SuperSport is showing the Dubai Tour. Furthermore, seven TV networks will broadcast highlights of the event in the Australasian macro-region: LETV in China, Fox Sports down under, Sky Sport in New Zealand, FPT Telecom in Vietnam, True Visions in Thailand and Sony TV in the Indian subcontinent. Moreover, the SNTV (Sports News Television) platform will be distributing event news via its international circuit. #DUBAITOUR For further information:  www.dubaitour.com Facebook page Instagram account Twitter page YouTube Channel