Marcel Kittel vince 1^ tappa (Foto Ansa)

Press Release – Dubai Tour

3 February 2016
Marcel Kittel (Etixx – Quick Step) wins Stage 1, Dubai Silicon Oasis Stage, of the Dubai Tour and takes the Blue JerseyFujairah, 3 February 2016 – The German rider Marcel Kittel (Etixx – Quick Step) won the inaugural stage of Dubai Tour 2016, from Dubai to Fujairah (173km), on a bunch sprint and took the lead in the overall General Classification. On the podium he was rewarded with the first race leader's Blue Jersey, sponsored by Commercial Bank of Dubai, and also the Red Jersey, sponsored by Emirates, of the points leader.STAGE RESULT 1 – 

Primi 3 classificati

Marcel Kittel (ETIXX – QUICK STEP) 173km in 3h35'21", average speed 48.200km/h

2 – Mark Cavendish (DIMENSION DATA) s.t.

3 – Giacomo Nizzolo (TREK – SEGAFREDO) s.t.

JERSEYS
The Blue Jersey, sponsored by Commercial Bank of Dubai (General individual classification by time) – Marcel Kittel (ETIXX – QUICK STEP)
The Red Jersey, sponsored by Emirates (General individual classification by points) – Marcel Kittel (ETIXX – QUICK STEP)
The White Jersey, sponsored by RTA – Roads and Transport Authority (Best Young Rider born after 1 January 1991) – Soufiane Haddi (SKYDIVE DUBAI PRO CYCLING TEAM – AL AHLI CLUB)
The UAE Flag Jersey, sponsored by DHA – Dubai Health Authority (Intermediate Sprint Jersey Classification) – Soufiane Haddi (SKYDIVE DUBAI PRO CYCLING TEAM – AL AHLI CLUB)
GENERAL CLASSIFICATION – Classifica Generale
1 – Marcel Kittel (ETIXX – QUICK STEP)
2 – Mark Cavendish (DIMENSION DATA) at 4″
3 – Giacomo Nizzolo (TREK – SEGAFREDO) at 6″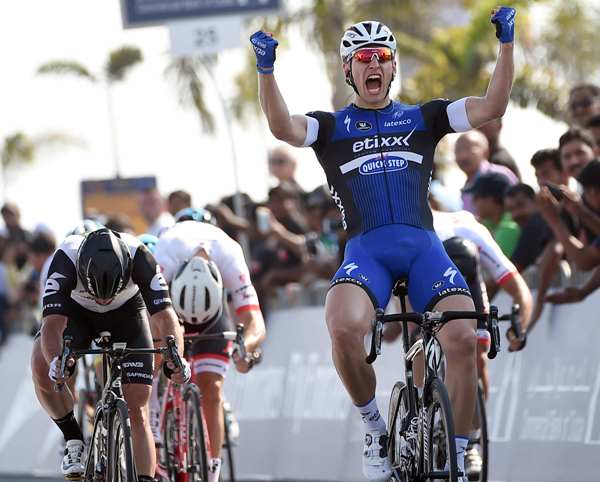 Ordine d'arrivo della 1° Tappa
1° Marcel Kittel (Etixx Quick Step) 3h35'21"
2° Mark Cavendish (Team Dimension Data)
3° Giacomo Nizzolo (Trek Segafredo)
4° Sacha Modolo (Lampre Merida)
5° Andrea Palini (Skydive Dubai)
6° Andrea Guardini (Astana)
7° Christopher Opie (One Pro Cycling)
8° Elia Viviani (Team Sky)
9° Michael Kolar (Tinkoff)
10° Tomas Vaitkus (Al Nasr Pro Cycling Dubai)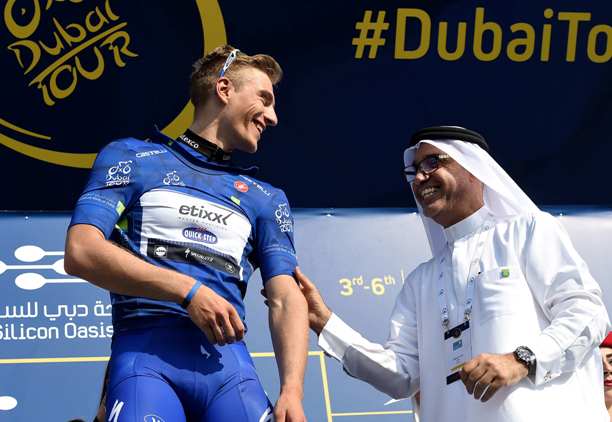 Classifica generale dopo la prima Tappa :
1° Marcel Kittel (Etixx Quick Step)
2° Mark Cavendish (Team Dimension Data) a 4"
3° Giacomo Nizzolo (Trek Segafredo) a 6"
4° Sacha Modolo (Lampre Merida) a 10"
5° Andrea Palini (Skydive Dubai)
6° Andrea Guardini (Astana)
7° Christopher Opie (One Pro Cycling)
8° Elia Viviani (Team Sky)
9° Michael Kolar (Tinkoff)
10° Tomas Vaitkus (Al Nasr Pro Cycling Dubai)
Speaking seconds after the stage finish, the winner made the following declarations: "Especially after the hard season I had last year, I'm incredibly happy that I could win today for my first race with my new team.
Everything has worked so well that I can't think of any topic to raise to make it better.
The boys have done a good job. We were the strongest in the lead out and the timing was perfect. We made a plan and we executed it. I surely enjoy the win. This one has a special flavour.
As I said before the season, I restart at zero. I feel very good about today's outcome. We'll stay focused and hopefully there's more to come for us at the Dubai Tour.." Press conference interviews and further details to follow. TOMORROW'S STAGE Stage 2 –
Nakheel Stage (183km) From Dubai city to Dubai city (Palm Jumeirah Atlantis) Sign-on procedures: 9.15-10.15am Alignment: 10.30am Start – KM 0: 10.45am (transfer 4,900m) Finish: Approx. 3.15pm Race Headquarters: DIMC – Dubai International Marine Club – Mina Seyahi, Al Sofouh Road, Al Seyahi Street, Dubai, U.A.E. ROUTE A stage of two distinct parts. The first part is just outside the metropolis, partially in the desert, the second part within Dubai Marina to end in Palm Jumeirah, in front of the Atlantis "door". The first part will pass next to the Camel Track, the Al Qudra bike path, the Hamdan Bin Mohammed Bin Rashid Sports Complex pool and through the desert. The second part returns into the city touching Dubailand, the Jumeirah Golf Estates and Dubai Sports City. It then heads to the finale on the Palm through an underwater tunnel before the last kilometres, with the halfway point on the artificial island. From here there will be a little over 3km before the final sprint. Last kilometres On the Palm, many clearly marked rumble strips run across the carriageway along the descent and the climb, and there is a U-turn 3,200m before the finish line. The final 3km are virtually straight (although on a constantly slightly-bending road), with some roundabouts along the way. The home stretch is 800m long (still bending slightly), on a 7m-wide asphalted roadway.
DOWNLOAD
#DUBAITOUR For further information:  www.dubaitour.com Facebook page Instagram account Twitter page YouTube Channel